January has definitely been about about new drugstore releases. I have had so much fun tracking these down and putting them to the test. While I have a few new high-end products that made the cut, the majority of products I can't put down are from the drugstore.
Let's dive into what I've been loving in January.
Maybelline Dream Cushion
Cushion foundations have been largely hit or miss for me. I've found that most of the U.S. cushion foundations have had very light coverage and many have felt greasy feeling to me. But the Maybelline Dream Cushion reminds me more of the Korean cushion foundations I've tried.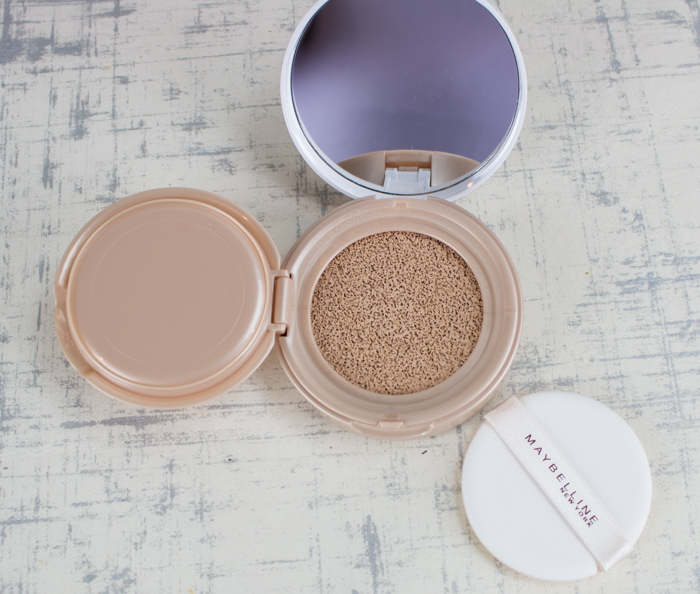 I tried out a few other foundations this month, but every morning I found myself reaching to put this on. I'm in shade 10 – Porcelain and it is a good match match for me. It gives a nice medium coverage with a satin finish and I imagine it will work for everyone unless you have extremely oily skin. I prefer putting cushion foundations on with a beauty blender instead of the cushion included in the compact.
Overall, I think this is the cushion foundation for people who don't think they like cushion foundations. I highly recommend picking this up the next time you're in the market for a new foundation.
Milani Prep+Set+Glow Powder
Earlier this month I reviewed a bunch of the new Milani spring product releases, including this powder. Honestly, what it boils down to is this is just a great powder. It gives a very subtle glow to the skin, doesn't look powdery, and does a fantastic job of setting my foundation. It performs like powders three times the price and should not be missed.
Maybelline Master Blush Palette
As soon as I saw this palette on Amazon Prime at the end of December, I knew I had to have it. The $9.99 price completely surprised me given that I feel like palettes at the drugstore keep creeping higher and higher. The color selection was what drew me in. It really is the perfect blush wardrobe of neutral peach, pink flush and dusty mauve. Throw in a neutral, champagne highlighter and this has travel-worthy palette written all over it.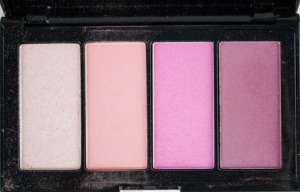 I had such high hopes after swatching it and it did not disappoint. The blush shades blend have just the right amount of buildable pigmentation that goes on smoothly and lasts all day. Oh and the highlighter is glorious! I love this palette so much I actually went back on Amazon and sent one to a friend. Oh and for the record, she loved it too.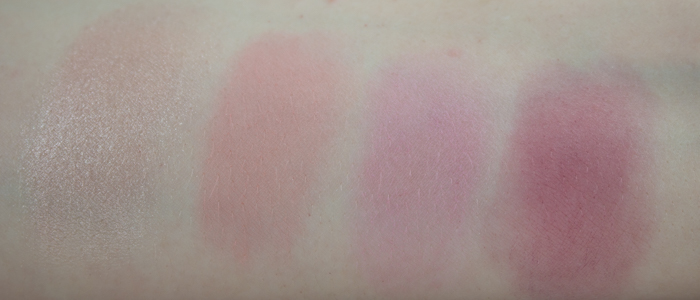 Milani Strobelight Instant Glow Powder in 01 Afterglow
Between the highlight in the Maybelline blush palette and this one, I feel like I have all my highlighter dreams covered. I have never been so impressed by drugstore highlighters in my life. I reviewed this highlighter in more detail earlier, but I had to include here in my monthly favorites because it's just that good.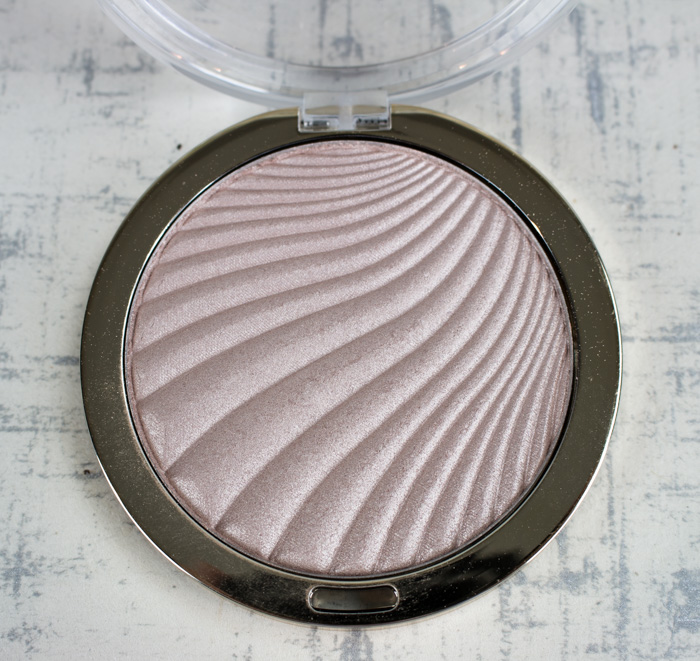 The formulation is every bit as good as the high-end highlighters at Sephora. I finally just had to remove it from my every-day makeup drawer to stop myself from using it.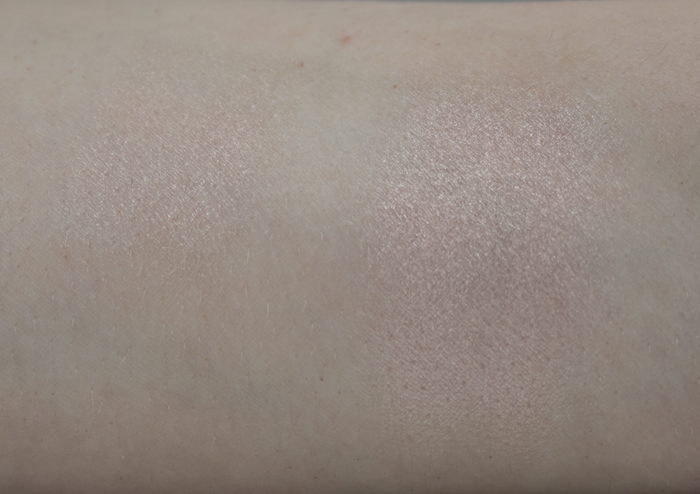 Wet N Wild Lash Renegade Mascara & Photo Focus Primer
I have such a hard time finding mascaras that don't smudge underneath my eyes. I can't even tell you the number of mascaras that I've purchased, loved how they looked on my lashes, only to end up looking like a raccoon by the end of the day. Honestly, I think I must blink weird or something because 9 out of 10 mascaras are going to leave me with a black smudge on the lower lash line by 5:00…even when I don't wear mascara on my bottom lashes. So when I say something doesn't smudge on me, that's a big deal!
The lash primer isn't new to my collection. I've used it in the past and have really enjoyed it with mascaras that I just feel like need a slight boost of volume. The Lash Renegade mascara however, is new for spring 2017. I loved the plastic wand for separating lashes and the small ball at the end was perfect for getting lashes in the corners of my eye. I don't think this is the most voluming mascara on the market, but it does a great job of lengthening and separating all of your lashes. And with the primer underneath, I got all the volume, length and separation I could want.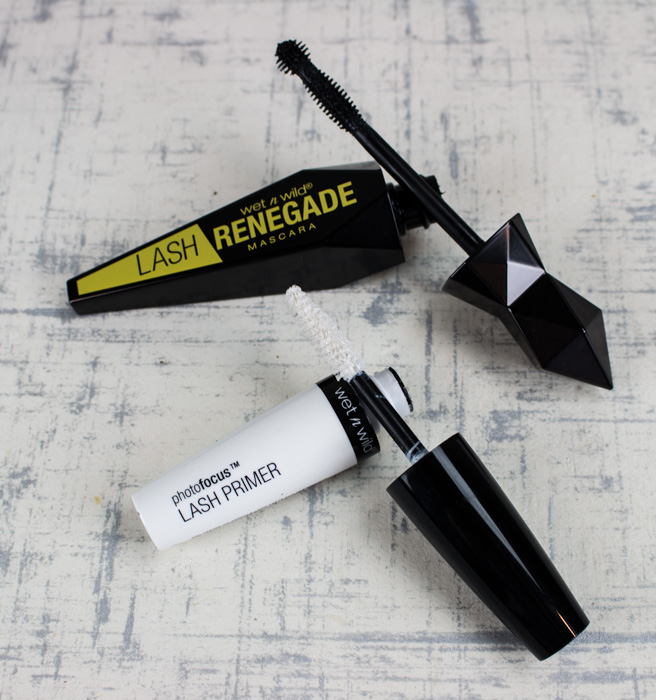 Glossier Coconut Balm Dot Com
This wasn't a new purchase for me. However, up until this month, I've kept this lip balm in my purse and mostly used it while traveling. This month, I ran out of the balm in my bedroom and grabbed this out of my purse. And I am so glad I did!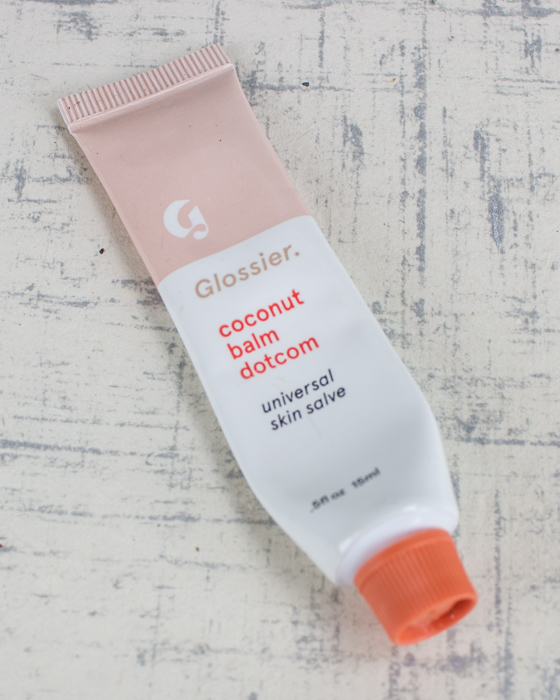 It's winter so I can pretty much guarantee my lips are chapped. But since I've been using this at night,  I wake up in the morning and my lips still feel perfectly moisturized. This used to be an impossibility with the dry, heated winter air. The coconut scent is light and not fake smelling and the consistency is smooth without being waxy or greasy.
It says "Universal Skin Salve" on the tube because you can actually use this anywhere you're dealing with very dry skin. Personally, I like to rub a little on my cuticles to keep them hydrated and I've even used this on my elbows a few times.
Huda Beauty – Matte Liquid Lipstick in Trophy Wife
Huda Beauty launched a line of liquid lipsticks late in 2016 and I believe I picked up this shade the first week they went on the market. However, it was winter and the last thing I want to put on was a drying liquid lipstick. (Enter Balm Dot Com on stage left to save the day.)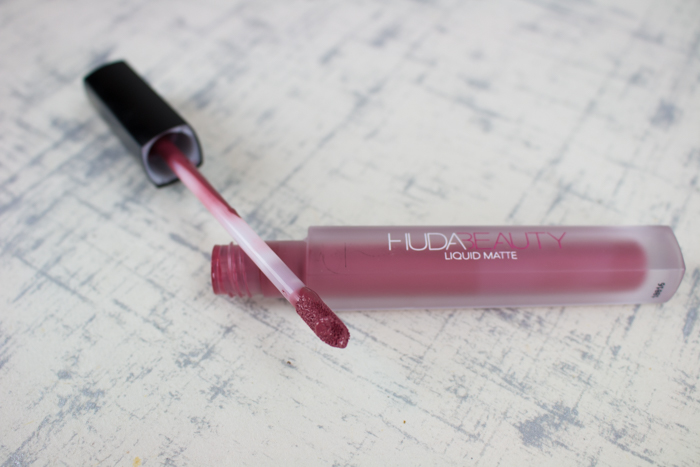 I've worn this shade a LOT this month and not only is it a phenomenal color (swatches below), the formula is incredible. It's a thinner texture but you get full pigmentation with a single swipe – no streakiness. It dries matte and doesn't transfer, but it never gets that super tight, moisture-sucking feeling that so many liquid lipstick do.
It also fades gracefully from the center of your lips. Sorry I think that people who tell me their liquid lipstick looks the same at 6:00 pm that it did at 8:00 are exaggerating (or just not eating/drinking all day). For me, I know that I'm going to get fading in the center of my lips after eating. What I look for in a liquid lipstick is:
Does it fade gradually vs flaking?
Can I reapply a small amount to the center of my lips without it getting thick and crumbling?
I've since picked up another color and it performs exactly the same, so I'm hopeful that this entire range is this great. This is hands down in my top 5 liquid lipstick formulations.
Maybelline Inti-Matte Nudes in Brown Blush
It's funny, as I've been drafting this blog post, I've seen several other bloggers and YouTubers come out and put this lipstick in their favorites too. And it totally get it. I've had so many people ask me what lipstick this is when I wear it. Like the other Maybelline matte lipsticks, the formula is very comfortable and not drying at all. It's highly pigmented and goes on without any patchiness whatsoever.
If you've been wanted to try a 90's brown lipstick but just feel like the tones wash you out, I highly recommend you give this shade a try. It's like a medium brown with really nice mauve undertones and it really will look more or less brown based on what you pair it with.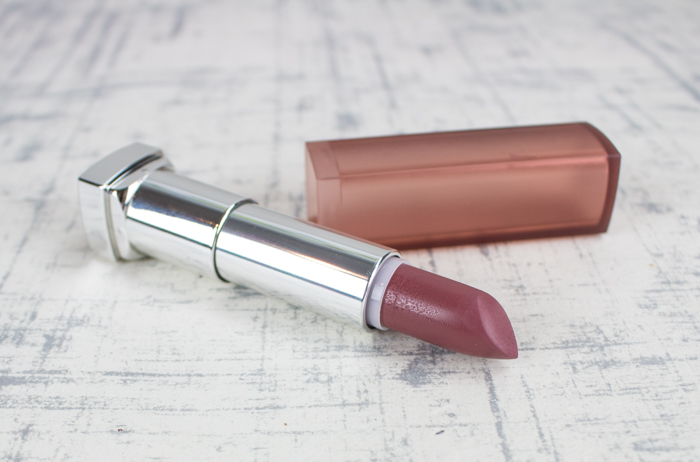 I'm sure these colors might look very similar to you and I can't lie, I clearly had a look I liked this month. The Huda Beauty shade in Trophy Wife on the left is definitely warmer and comes off much brighter. The Maybelline Matte Lipstick in Brown Blush is much more muted. But both of them are going to look great on a range of skin tones and I don't think you'll be disappointed if you give them a try.
THE FAILS:
I disliked these products so much, I didn't even take pictures of them. 🙂 Whoops! Actually I can't take a picture of one of these because it's already been returned.
Revlon ColorStay Brow Pencil in Soft Brown – This was just too soft and pigmented for my tastes. I like a pencil that doesn't lay down too much product right when you touch it to your brows. This just doesn't have enough waxiness for me and I struggled not to put on too much every time I used it. The tone and the spoolie were both great, but application was just a pain and never looked natural.
Tarte Exposed Highlighter – This is a well-loved highlighter by many people. I read so many reviews saying it was great and a gorgeous light champagne color. However, when I put this on my face all I could see was GLITTER!! It was everywhere. And not small, micro-glitter like you find in some Hourglass blushes/highlighters. This stuff was chunky. I'm not sure if I got a bad batch, but this just didn't work for me. Since then, this puppy went right back to Sephora – do not stop; do not collect $200.