I am such a fan of the Sephora Favorites sample boxes and the newest "Give Me Some Nude Lip" is such an awesome value. Oftentimes, their sample boxes are $50+ and then you really have to think to yourself, "Is this worth it? Will I really use everything?" So I love that they put out such an amazing lip kit that is only $28, especially when the retail value of this box is $88!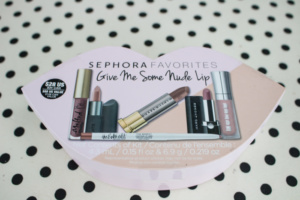 What You Get
Estée Edit The Barest Contour lip Liner in 05 In The Buff (FULL SIZE)
Too Faced Cosmetics Melted Matte Liquified Matte Long Wear Lipstick in Queen B  (deluxe sample)
Marc Jacobs Beauty Le Marc Lip Crème in 246 Slow Burn  (deluxe sample)
Bite Beauty Amuse Bouche Lipstick in Honeycomb (deluxe sample)
Urban Decay Vice Lipstick in 1993 Comfort Matte (FULL SIZE)
Buxom Full-On Lip Cream in White Russian (deluxe sample)
Swatches
I will say the Too Faced Melted Matte lipstick looks a little streaky in the swatch below. Chock that up to me not being great at arm swatches yet. On the lips, it's not streaky at all and easy to apply.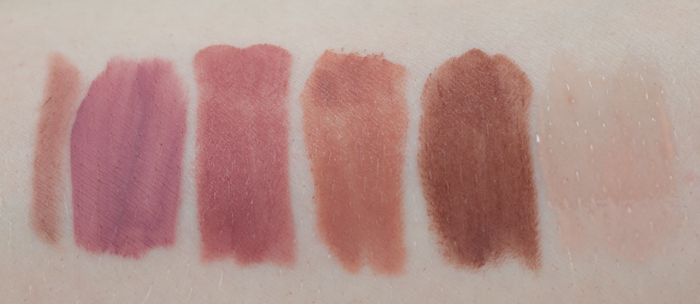 My Thoughts
I already own all of these formulas in different shades and knew they were good, so the chance to try some of the more popular nude colors I don't own is absolutely worth it. The only product formula I hadn't tried was the Estee Edit lip pencil and it's great. The range of nude colors, from more brown to peach to pink is great and I love that they threw in a nude gloss. The Estee Edit lip pencil is also great all over your lips with the Buxom gloss on top.
Honestly, my final thoughts are stop reading this right now and go buy it. I honestly can't believe this still hasn't sold out on the Sephora website. I bought mine several weeks ago and had to double check before writing this review that it was still available.  But it's still there. And the best thing is because it's just over $25 all of the Sephora promo codes will work to add in another deluxe size sample for free!