My beauty weakness has always been eyeshadow palettes. Nothing inspires me more than looking pretty eyeshadow colors all laid out in unique combinations. I've been slowly amassing a pile of them for years now. But that also means that many in my collection get neglected. I recently got some inspiration from a makeup Facebook group I'm in to do an Eyeshadow Palette Lottery so my whole collection goes on rotation. Curious about how this works? Keep reading.
The general idea is to make a numbered list of all your eyeshadow palettes. Then use a random number generator to pick a palette that you'll use for the day. Tahdah! Eyeshadow Palette Lottery!
My List
Ok, this list was slightly embarrassing to make because it got very long, very fast. I've chosen define "palette" as anything having 3 or more shadows in it. That way, it pulls in my smaller trios and quads that often get ignored right along side my larger palettes.
I've created a Google Doc that I'm going to keep up to date as I go along. This is organized by brand. As I go along, palettes that have been drawn in the Eyeshadow Palette Lottery will move to the bottom of the list to keep them separate.
Using the Palettes
Days of Use
The size of my palettes varies greatly between 3 shadows all the way up to 35 shadows. Based on that, I wanted to lay down some rules for how many days I would use a palette before drawing another.
3 – 5 Shadows – One Day
6 – 12 Shadows – Two Days
13+ Shadows – Three Days
Matte Palette
I also wanted to allow myself one matte palette that I could use if I absolutely had to. Several of the palettes have only shimmer eyeshadows and I know I'm not going to be happy without a least 1 matte shade to make a complete eye look. The palette I selected for this is the Kat Von D Shade + Light Eye Contour Palette. This palette is going to give me neutral, cool and warm matte shades from light to dark. My goal is to use this as little as possible, but I did want to have it on the sidelines.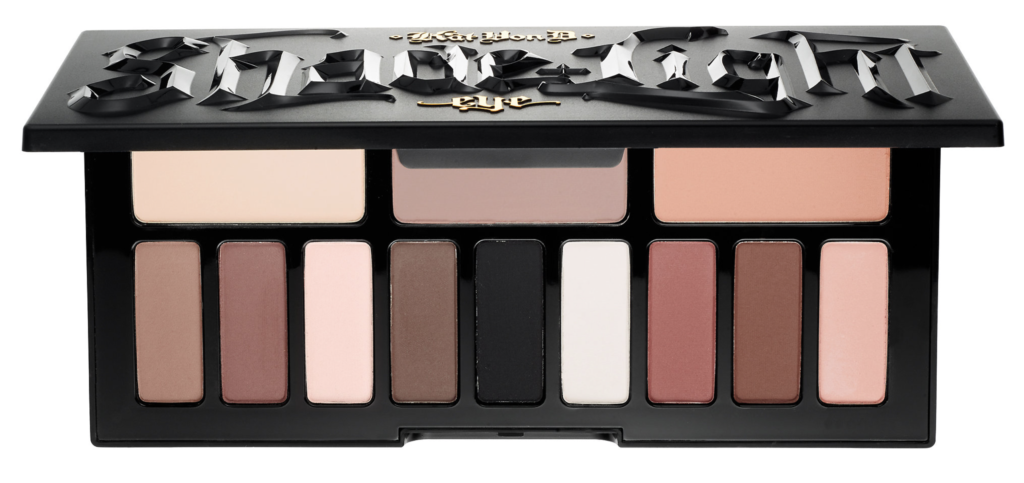 Blog Testing
I also may pause from time-to-time to test some other eyeshadow products that I want to review here on the blog. For example, I know that there are several eyeshadow duos from Essence and ELF that I want to test and review.
Traveling
One final thing to note. I travel for work from time-to-time. I am going to try the Eyeshadow Palette Lottery while I'm packing, but I reserve the right to say no if I pull something that isn't going to work for business situations. If that were to happen, I'm going to just pack the Kat Von D Shade +Light palette above.
Updates
I'm going to be posting updates on the blog and on Instagram as I go along. If you've looked at the list, you know it's going to take me quite a while to work my way through my collection. But I'm excited to do this and to share the looks that I create with you. I'm sure I'm going to have a much better perspective on how all these palettes perform at the end of doing this also.
I would love to hear from you! How do you rotate your palettes? Have you ever done something like this? Do you find (like me) that you reach for the same palettes a lot?