This is a summer release slipping under most people's radar I think. The only reason I caught that Loreal had released new Colour Riche Mono Eyeshadows was through some random Ulta sorting/searching. But I'm so glad I found them. Keep reading to see why.
Overview
Colors & Swatches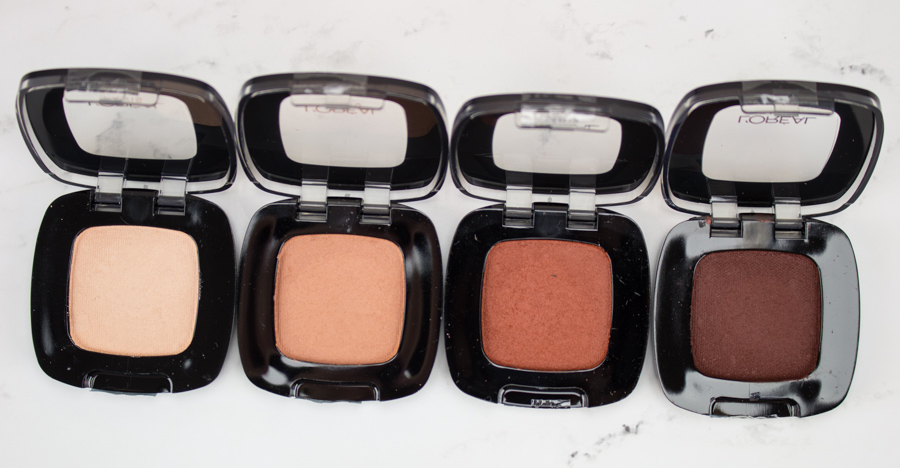 Swatching Notes:  I used a primer and then set it before doing finger (L) and brush (R) swatches. For the brush swatches, I picked up the shadow like I using a flat shader brush. I did a few swipes down my arm with the brush, but didn't go back to pick up more color.
There was one other shade (a yellowy vanilla color called Matte Chill) that I didn't pick up because I didn't think I would use it. I think the four colors I did pick up are the perfect gradient of warm mattes.
That first shade, Mix and Matte, is hard to see swatched because it is almost exactly my skin tone. But that also makes is perfect for setting my eyeshadow primer. I was pleasantly surprised at how close the finger and the brush swatches look. I don't often see that when I do swatching.
Application
The Loreal Color Riche Mono Eyeshadows don't feel like any other shadows in my collection. Almost like a if normal powder shadow and a cream shadow had a baby. This formula works fantastically well for matte shades, but leaves a lot to be desired in the shimmer shades. When these were released last year, I tried quite a few colors and ended up donating all of the shimmer shades I tried. They just were thin and applied poorly. Strangely enough, the mattes were creamy feeling and blended like a dream. The shade Cafe Au Last is my favorite cool-toned transition shade in my collection.
Personally, I love the new shades they released and found that they went on the eyes beautifully. Mix and Matte is perfect for setting my primer, but is a little too dark for highlighting my brow bone. Although if you have a medium to deep skin tone, this shade would probably be perfect for that. Acro-Matte is gorgeous as a transition color in the crease. And both Matte It Up and Matte-Ison Avenue give looks depth and blend so well.
I found that over primer, these shadows lasted well past 8 hours with no creasing.
Pricing
The quality of the shadow is great.  I just wish these were priced more like the Maybelline single shadows at $3-$4. I have a hard time recommending them more than Makeup Geek Shadows which are similarly priced. The Loreal shadows do come in their own package and Makeup Geek is just a pan. But depending on how you use/store single shadows, this may be a pro or a con to you. You also get .12 oz in the Loreal Color Riche Mono Eyeshadows and only .064 oz in the Makeup Geek shadows. So the value is definitely better in the Loreal shadows.
Overall, these are the best matte single shadows at the drugstore, hands down. So they get bonus points for accessibility and releasing new matte shades. If one (or more) of these shades interests you, then you won't be disappointed.
SaveSave
SaveSaveSaveSave