My February beauty favorites and flops were tougher than usual to put together this month. In between traveling for work and getting deathly ill for a week, it didn't leave a lot of time to try out new products. However, the favorites that I do have I have found myself reaching for over and over and I can say these are great products.
Jergens Natural Glow Wet Skin Moisturizer
Price $8.69
Available At: Target, Wal-Mart and Drugstores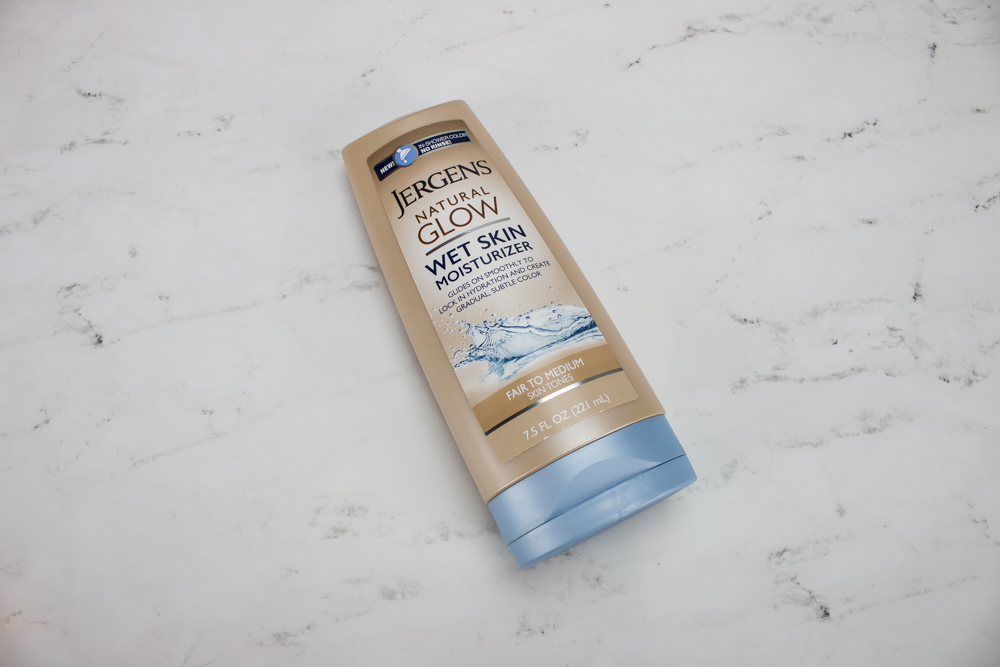 Late in 2015, Jergens came out with an incredibly innovative "wet skin" moisturizer that could be applied on wet skin right after you showered before toweling off. It was completely unique to the market, so I wasn't surprised to see it land on Allure's Breakthrough Beauty of 2015. This moisturizer is so quick and easy to apply and I think it does a great job of sinking into the skin and not leaving a greasy feeling. Unfortunately for me, I didn't care for the three scents that they put out and if I'm going to use a lotion all over my body, I really want to like how it smells.
Earlier this year, Jergens launched a new Wet Skin Moisturizer, this time in their Natural Glow line. This product is meant to gradually add a small amount of color to your skin and comes in "Fair to Medium" and "Medium to Deep" shades. I haven't noticed much of a difference in how tan I look, but I also exfoliate quite a lot so I didn't expect much of a change. I am happy to report is that I really do love the scent and I am thrilled to have this sitting in my shower.
Glossier Rose Balm Dotcom
Price: $12.00
Available At: Glossier.com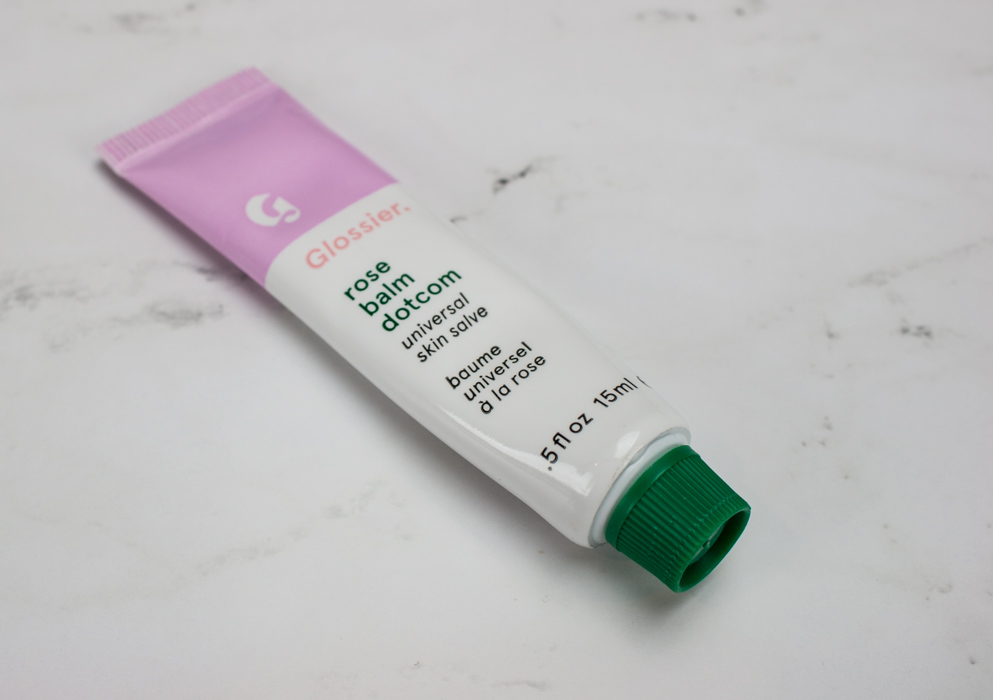 I know this is the second time I've mentioned the Balm Dotcom product in my favorites, but I think it rose (get it?) to even new heights this month. Nothing like decongestants when you're sick to dry up absolutely everything! I was reaching for this ALL the time. It lasts for hours and does a great job of keeping your lips moisturized even in the harshest conditions.
This product has a very light, sweet rose scent to it that I love. It also reminds me of something from my childhood that I still can't place; some sort of toy I used to play with I think. Cabbage Patch Kids maybe? Plastic play food? I have no idea, but it's a comforting, nostalgic scent that I'm thoroughly loving.
Cover FX Perfect Setting Powder
Price: $35.00
Available At: Sephora, Beautylish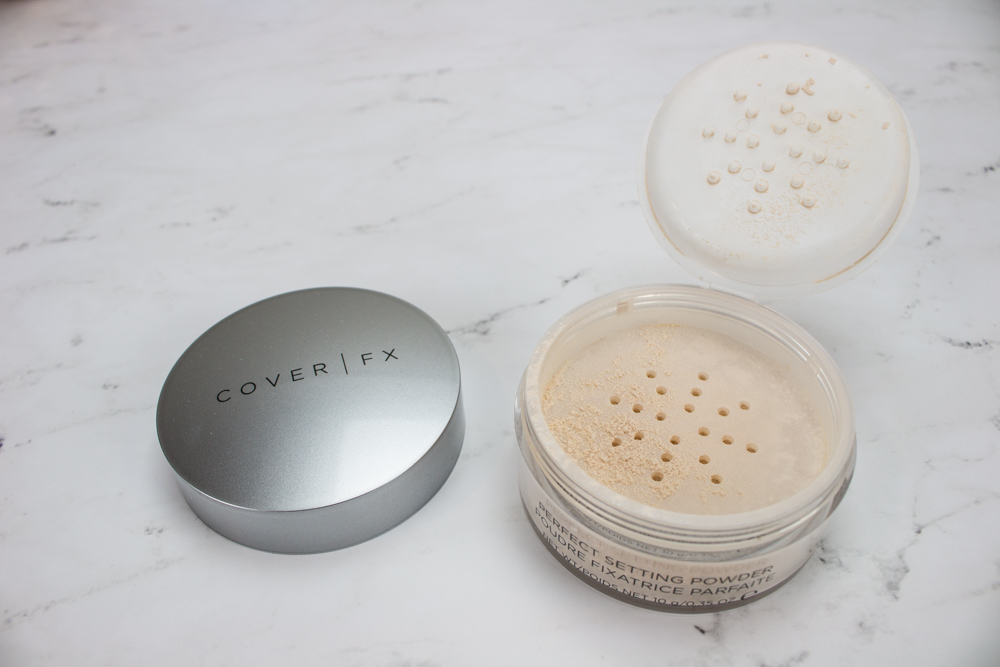 I picked up the Cover FX Perfect Setting Powder in January and I knew immediately it was a game-changing powder for me. I desperately wanted to put it in my January favorites, but didn't feel like a week of use was quite enough time to test something out. A month later and I still think this is the best loose powder on the market. I have to explain a little why I feel this way.
It's talc free! The first three ingredients of this formula are Mica, Lauroyl Lysine, and Silica. Mica, when super finely milled like this, gives a natural satin look to the skin; it's not to matte and it's not too glowy. Lauroyl Lysine is an amino acid from coconuts and is known to be a great skin conditioning ingredient. Throw in silica which is probably the best ingredient on the market for blurring skin, and you have one heck of a powder formulation.
It never looks powdery.  This powder is so finely milled and so soft that I can go heavy-handed in application and it will never look cakey or powdery.
It's incredibly smoothing. Due to the Silica, and also I believe the Lauroyl Lysine, this powder really does smooth the skin and minimize pores. I can really tell a difference on my cheeks where I have larger pores. It also works incredibly well to set my concealer on my under-eyes without drying that sensitive skin out.
There are two colors. Thankfully there is a trend with brands to recognize that deeper skin tones need a different kind of translucent powders. So there is the traditional light-toned powder that is truly translucent for light to medium skin tones. And there is a dark-toned powder that will be perfect for deeper skin tones.
The packaging is great! The addition of the sifter lid really is fantastic and means you can easily travel with this powder with out worrying about it all ending up in the cap. Also true if you're like me and have a tendency to drop products for no reason.
I highly recommend splurging on this powder. I really don't think you'll be disappointed.
Cover Girl Clump Crusher Mascara – Water Resistant
Price: $6.99-$7.99
Available At: Ulta, Target, Wal-Mart, Drugstores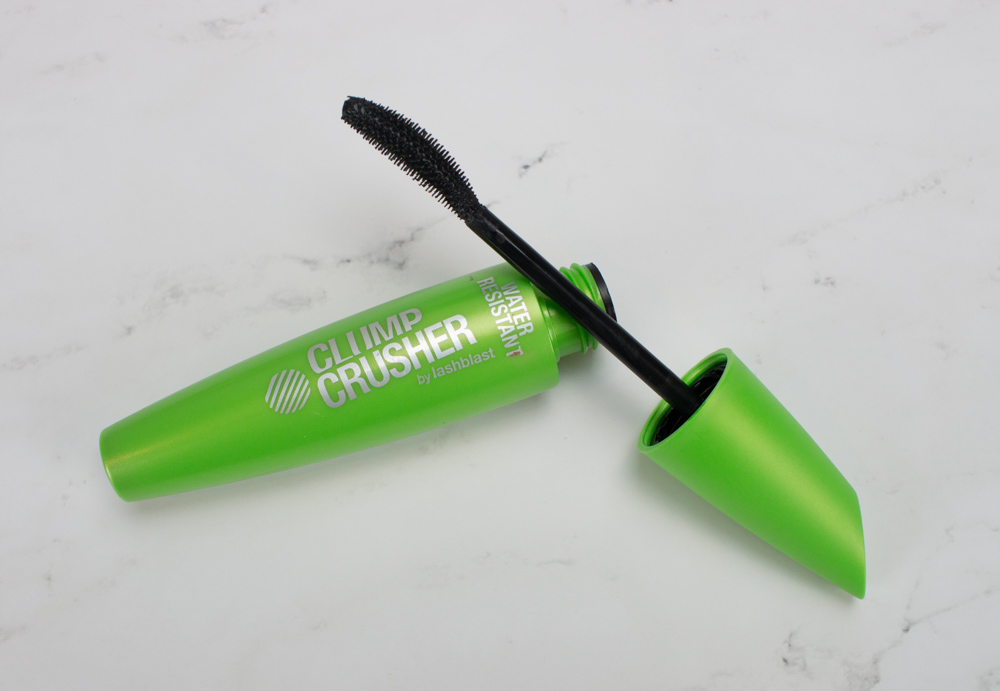 While I've heard EmilyNoel83 on YouTube talk about this mascara for years now, I had never tried it. I broke down and purchased a tube of the water resistant formula at my local Target in January. I picked up this formula because I have been researching tips for getting lashes to stay curled. My lashes natural just stick straight out and loses curl throughout the day. The makeup artist I watched recommended curing the lashes and then using a waterproof mascara almost like a lash primer. He said that the waterproof formulations did a better job of holding on to curl. He then went in with a coat of regular mascara to add volume.
I've been trying that technique all month and I really like it. I think the Cover Girl Clump Crusher does a nice job of separating and lengthening my lashes. And then I've been going over the top with a more volumizing mascara like the IT Cosmetics Superhero or the Essence Lash Princess. While I still don't think my lashes are perfectly curled at the end of the day, this has made a noticeable difference. I also really appreciate that this mascara easily washes off with soap and water. No need to bust out facial oils to take this off.
Colour Pop Dope Taupe
Price: $6.00
Available At: Colourpop.com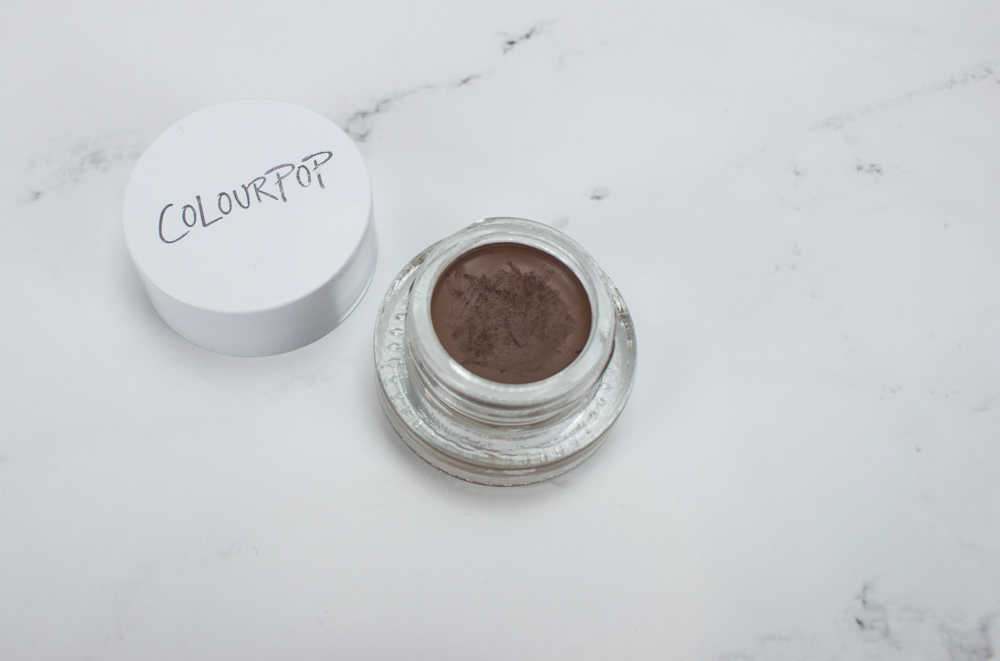 Ever since trying out the Dope Taupe brow pomade from Colour Pop, I haven't reached for anything else. The Anastasia Dip Brow had scarred me against brow pomades because it was so pigmented and emollient. I barely touched my brush to product and I would end up with a giant streak of brown in my brows. Last year, The Benefit Kabrow showed me that there are pomades that are much for forgiving to use and ever since pomades have been my preferred way to quickly fill in my brows
But I really wanted to find a pomade that was more affordable. I don't mind splurging on beauty items, but personally I'd rather have a high-end eyeshadow or lipstick than a brow product if I can find a drugstore option that works. The Colour Pop pomade is perfect. It's not too waxy or too pigmented. I can quickly fill in my brows using an angled brush and then brush them out with a spoolie and call it a day. The tone is ashy and cool-toned and really matches the tone of my brows. I went back to my Kabrow once this last month just for comparison and I quickly decided I liked the tone and formula of the Colour Pop pomade better. (For reference, I apply my brows with a Anastasia Beverly Hills #12 brush/spoolie.)
Fiona Stiles Multidimensional Color Palette
Price: $39.00
Available At: Ulta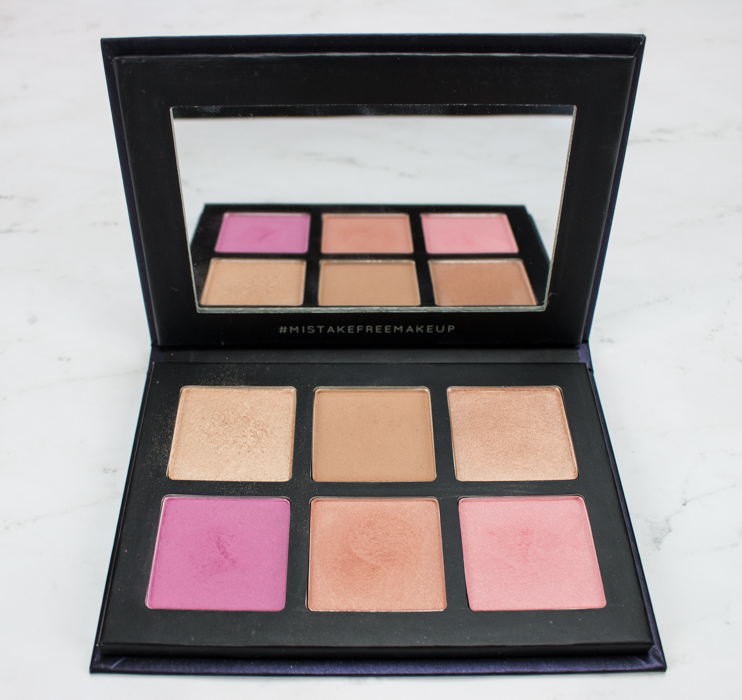 I was incredibly excited when I saw that Fiona Stiles had launched a face palette in January. I have loved so many of her products, but had never tried her blushes or bronzers. Having used this for a while now, I think it lives up to the claim #mistakefreemakeup. The colors blend effortlessly and I think she did a great job of picking blush and highlighter colors. I love that it has a good sized mirror and the cardboard packaging feels sturdy and like it would travel well.
As someone with very fair skin, I found I could only wear the highlighter in the top, left corner. The other highlighter was just a little too dark, but would look gorgeous if you had medium to dark skin. I found I could easily wear all three blush shades, even the orchid color on the bottom left if I used a light hand. I've included a swatch below of the blushes blended out with a light hand so you can see how wearable they are. That orchid shade is the only matte blush. The other two have a very subtle satin finish, but nothing too glowy. The bronzer is also a good shade for me when I use a light hand, but I don't think it would work well if you have a darker complexion. Overall, this palette is a huge win for me.
Revlon Ulta HD Gel Lipsticks
Price: $7.99-$8.99
Available At: Ulta, Target, Wal-mart, Drugstores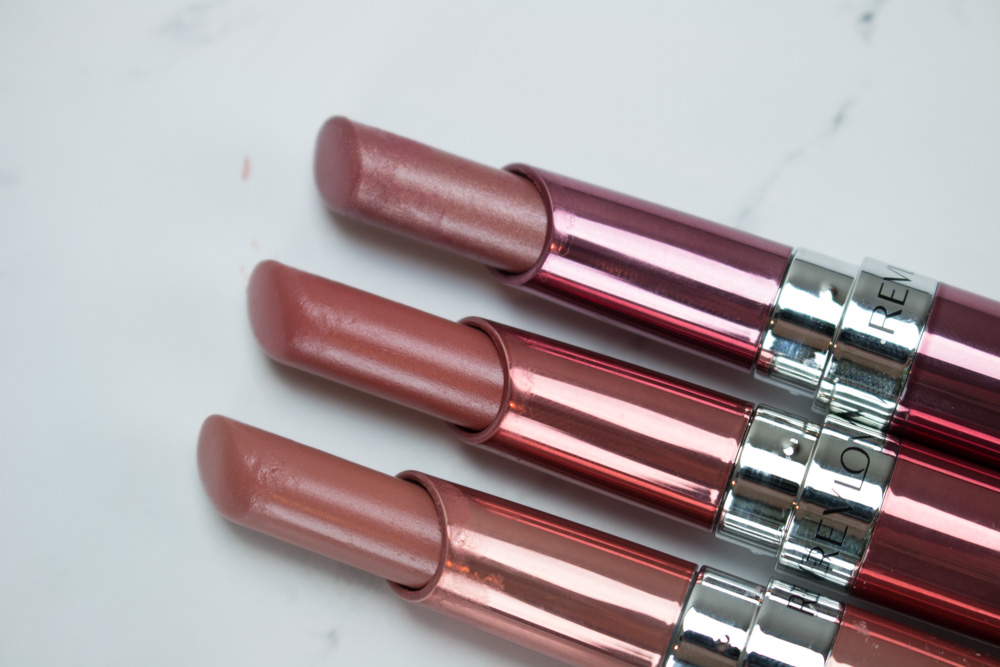 This spring, Revlon released these new Ultra HD Gel lipsticks in 15 colors. So of course, I had to try the nude shades. #predictable I was caught off guard my how much I like this formula. It's very moisturizing and feels great on your lips. But it also has fantastic color pay off that doesn't slip and slide on your lips. I feel like that is typically the trade off. You can get lip products that are very moisturizing, but the minute the color gets more intense, you run the risk of it bleeding or moving around. These manage to feel great and stay in place while giving a slight gloss to your lips.
These are my three favorite colors: Sand, Desert and Dawn. They are easy, every-day colors that I've been keeping in my purse because I apply them even without a mirror. Dawn looks like it might be a frosty color in the tube, but as you can see in the swatch below, it really just looks glossy.  I have actually picked up a couple other colors too that I am currently testing out. I'm hoping to do either a lip swatch video or blog post here in the next few weeks.
One small note: These do have a fruity/coconut scent. I personally like smell and it doesn't taste "chemically" to me either. But if you are sensitive to scents, you might want to give just one a try to make sure you like it.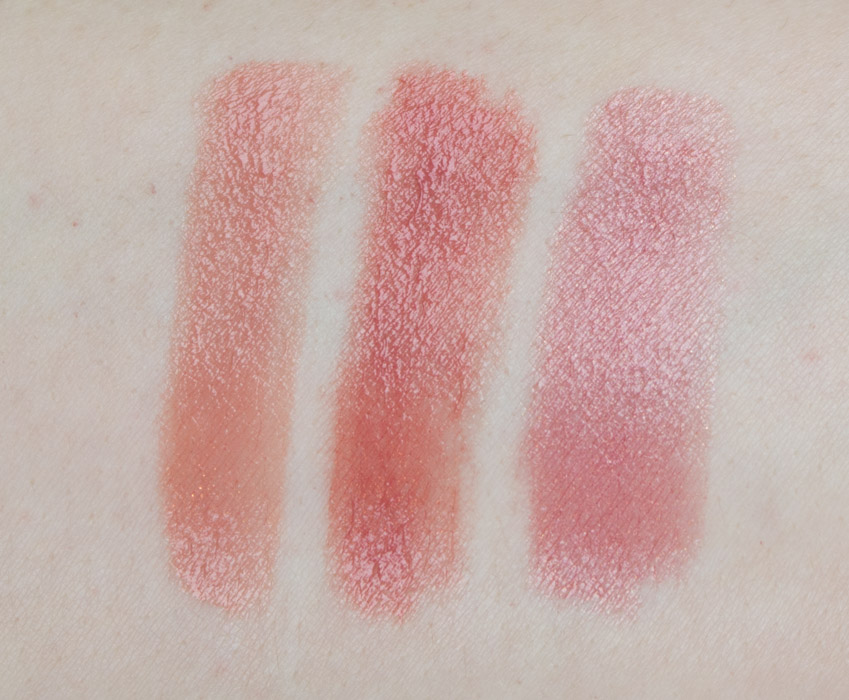 February Flops
This products that didn't work out for me this month may come as a HUGE surprise to some people because they are both fast becoming cult-favorites in the beauty community. But in both instances, I had bad experiences that I just can't get past.
Wet n Wild Liquid Catsuit Lipsticks: Everyone and their mother seems to be raving about these liquid lipsticks on YouTube. They were technically just launched this spring, but a very similar formula in the exact same packaging was part of the limited edition 2016 fall products from Wet N Wild. I just don't get the hype. These were incredibly drying on my lips, started to crack off around the center of my mouth a couple hours in, and were impossible to reapply. The colors were also very hit or miss for me. The lighter and darker shades were very patchy, but the mid-tone shades applied well. I've tried a lot of liquid lipsticks and have found quite a few formulas that I like. But these I did not care for.
I belong to a great Facebook group that chats about makeup and I can tell you people have had such polarizing experiences. I'm starting to wonder if there were bad batches sent out or perhaps cold weather during shipping ruined the product. There were dozens of pictures of women showing how great it looked on them and and equal number of photos that showed an experience similar to mine.
Sunday Riley Good Genes: This product has nearly a perfect review on Sephora and I personally know women that swear by it. So when Sephora had a coupon code for a 7-day sample pack, I jumped at the chance to try this. It's a $158 for a full-sized bottle so I knew I had to get a sample before making that kind of commitment. I used this for three days and then my skin went NUTS. I had hundred of pimples break out all over my face and neck. Pretty much anywhere this was applied, I had a pimple. It was the worst my skin has ever looked in my entire life, teenage years included. I was horrified to say the least and stopped using immediately. I've been in skin-recovery mode ever since.
I was then on a mission then to figure out why this had happened to me. I use both BHA and AHA chemical exfoliants on a regular basis, so I was surprised when this lactic acid (AHA) treatment caused this severe of a reaction. Here's what I've been able to uncover. Good Genes is actually 20% lactic acid, which is a lot. In fact, the most common complaint in the reviews section is that this caused burning and redness. And the FDA recommends using AHAs at 10% or less in products. Bear in mind, this is a recommendation not a rule, so cosmetic companies can largely formulate how they want.
So why did I break out? Turns out that some people's skin does not handle rapid chemical exfoliation well and I'm one of those people. Some people will experience an initial "purge" of acne coming to the surface when starting a higher concentration of AHA. This generally clears up though and the skin is left looking better. However, as Lab Muffin explains,
If it's purging, it should only make pre-existing microcomedones come to the surface faster, so if you're breaking out in places where you don't normally experience breakouts, it's likely that the product is wrong for you.
The lesson here – test new skincare products on a small area of skin before slathering it all over your face. Take it from someone who looked like they just entered puberty again, it's best to be safe.